Having worked in the 'gym setting' and been partners in a larger, noisy, congested studio, I felt the need to create a private, serene setting that emphasized the mind/body aspect of both GYROTONIC® and Pilates.
Thus Studio Core was born. An intimate setting, it is equipped with two reformers, full size Cadillac, Wunda Chair, ladder barrel, half barrels, GYROTONIC® Tower and auxiliary Pilates accessories. High ceilings and a wall of windows allow plenty of Aspen's plentiful sunlight into the surroundings. Tall French doors open to a delightful patio, filled with flowers and lush shade trees in the summer months. Views of Shadow Mountain are lovely, both summer and winter.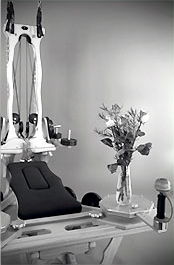 A full bath with shower facilities refreshes after your workout.
The Studio is 'yours' during your private or duet session. Your work out is tailored to you and your needs. As Owner/Trainer you can be assured that your experience will be top quality.
---